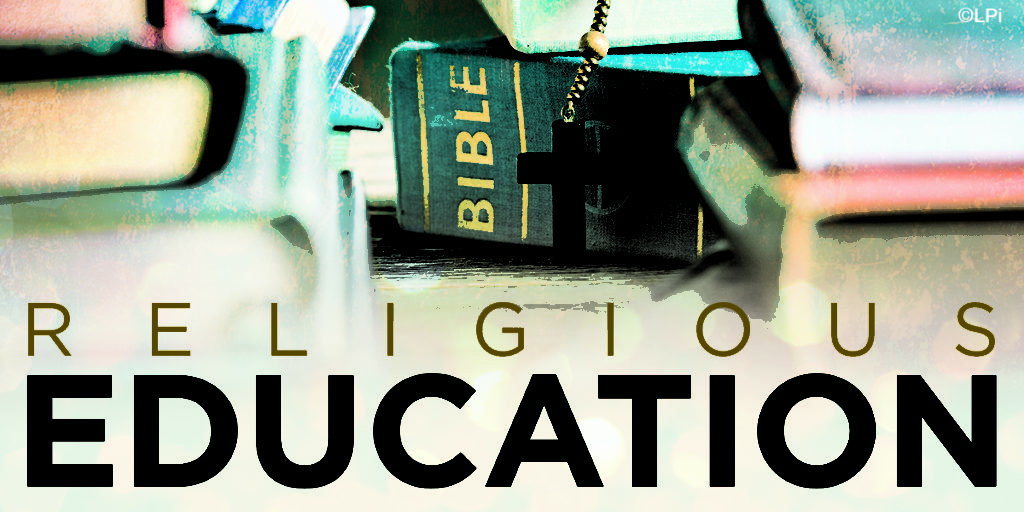 The children's religious education program, for Kindergarten through 5th grade, is a program that teaches our Catholic faith to the children so that they can grow in their faith and relationship with God. They meet Wednesdays from 6-7:30 pm, Mid-September through April.
If you would like to help with this program, please contact the RE Coordinator, June Gordon @ 920-746-0431 or the Parish office @ 920-856-6440.

It's way more than effective catechesis. It's Catholic middle school youth ministry that helps young people with life's most challenging years.
The parish communities of Corpus Christi, Holy Name of Mary, St. Joseph and Ss. Peter and Paul have decided to combine the middle school Religious Education into a quad-parish middle school ministry called Edge. Edge is our middle school Religious Education for students in grades 6, 7, and 8th. We meet every Wednesday from 6-7:15p.m.
Do you remember when you were in middle school? It was awkward and difficult. Well, that hasn't changed. However, societal shifts have made the middle school years more difficult than ever. Today, middle school youth are having experiences that were common only with high school students just 15 years ago. That's a scary thought.
Middle schoolers are on the "edge"; of physical, emotional, social, intellectual and spiritual growth. They have questions and are no longer accepting faith simply because it is what their parents believe.
They have real questions that need real answers.
Edge offers a comprehensive model of youth ministry that gives the students a safe place to ask the questions and grow in their relationship with Jesus Christ and His Church.
Middle school students gather with fun games, listen to a teaching on the night's topic, break open the teaching in small groups (which are divided by grade level) and close the night in prayer. Christ is changing the lives of the middle school youth in Sturgeon Bay! Come and be a part of this wonderful experience!
Please contact the youth minister, Sarah Gavin at stgavin25@gmail.com or 920-743-4716.

LIFE TEEN-PROGRAM OVERVIEW
Life Teen is the combined ministry of the following parishes: Corpus Christi, St. Joseph, Holy Name of Mary and SS Peter and Paul. Life Teen is the Religious Education for high school.
What is Life Teen? What attracts teens to Life Teen?
Life Teen has a simple mission: To Lead Teens Closer to Christ. This mission is accomplished through a vibrant Eucharistic spirituality and opportunities for teens to grow in their faith. Life Teen is experiential-based, non-classroom model of systematic catechesis. Teen discipleship is formed from Christ-centered relational ministry. Sturgeon Bay Life Teen offers teenagers a hope-filled environment where teens feel loved and accepted.
Life Teen is an international movement of the Holy Spirit. Life Teen began in 1985 as a single-parish program in Mesa, Arizona. As it grew in popularity with the teens, people around the country began to take notice. The simple model of a Mass focused on teens and their families, followed by a catechetical session called a "Life Night," remains effective to this day.
The Mass is quad-parish and not just for high school teens! All are welcome! We celebrate Mass at 5 p.m. on the 1st Sunday of the month. See Life Teen calendar for Mass dates! Life Night is every Sunday and starts at 6:30 pm until 8:00 p.m
If you have questions about Confirmation, please contact the youth minister. The program is part of Life Teen but has an extra preparation process.
Want to help out? Want to get involved? You should! Contact Sarah today – 743-4716 or stgavin25@gmail.com.
Life Teen is more than a program; it's life transforming, for not just our teenagers but for all parishes. Life Teen is dedicated to the Blessed Virgin Mary, guided by the Holy Spirit and grounded in the sacraments. When you combine the power of the Holy Spirit, the intercession of our Blessed Mother, and the sacramental focus on Christ with the passion, zeal and potential of teenagers the impact and possibilities are limitless.